A Message From the Head of School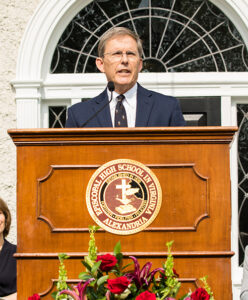 By definition, annual reports look to the past and document the previous year. That is true of this one, too, but with a twist: We are highlighting initiatives from 2018-19 that help ensure a bold future for Episcopal.
The Episcopal community's passion and zeal for this work are quite inspiring. The 2018 Strategic Plan, approved by trustees just 16 months ago, is generating enormous enthusiasm on campus and among the School's supporters, whose generosity last year set a new record. The plan is only just taking root, but its early fruit is significant.
As you may remember, the Strategic Plan was the product of a deep, thoughtful examination of the School as it approaches its third century. With our mission to be more effective in developing intellectual and moral courage in our students than any other school, this plan emphasizes those aspects of our community that allow us to provide a transformative and distinctive learning experience — our school's proximity to the rich resources of Washington, the powerful relationships that flourish in our 100% residential model, gifted educators who care deeply about their students, and an Honor Code that is one of the oldest in the country.
Major financial drives are making Episcopal more affordable for families and more attractive for top faculty hires. Thanks to leading EHS supporters, the School raised nearly $16 million in 2018-19 that will endow financial aid. We also completed construction of four new faculty homes. These, plus the two built in the previous year, bring us closer to the Strategic Plan goal of having 100% of our faculty live on campus. The McCain-Ravenel Center for Intellectual and Moral Courage continues its buildout, with several pilot programs that aim to do even more to connect students to the resources of Washington, D.C., and to bring experts from the area to our campus. We are expanding our approach to "pop up" courses like the political communications class led last year by Tyler Brown '99, a professional political strategist. We are also continuing to explore how our Afternoon Options program can allow older students to experience the deeper connections to Washington's resources that have been so powerful in our Senior Externship May Program and to connect directly with metro-area companies, nonprofits, and public agencies.
It has been exciting to see the first stages of our new Master Campus Plan come to life as well. In our Baker Science Center, we have developed a fantastic expansion of our "Fab Lab" makerspace and STEM facilities that support our programs in engineering, robotics, and advanced computer science. Construction of a new track in a section of Laird Acres will make room for two new smaller dorms near the heart of campus. These two additions will give us the flexibility to make ongoing improvements across each of our current dorms rather than expand enrollment and will open the way for a new residential-life curriculum and significantly reduce the ratio of residential faculty to students across the campus. A new Health and Wellness Center is being designed to replace McAllister and to position Episcopal to be second to none in our focus on our students' health, well-being, and ability to thrive on the campus in all that they do.
This is an exciting time for all of us. You have been a significant part of our past, and your help and support now are pointing us to a bright future. I remain grateful for all that you do for Episcopal and look forward to working together in the years to come. It is your remarkable dedication and support that make Episcopal such a powerful place to learn and grow for our students today.

Charles M. Stillwell P'18
Head of School